East Point Academy Alumnus Jonathan Duff takes a Trip down Memory Lane
Back
September 23rd 2022
The Inspiration Trust has today welcomed the Regional Schools Commissioner for East of England, Jonathan Duff, to East Point Academy, a school that he attended from 1991 to 1996. Mr Duff was accompanied by James Crane, Open Free Schools Lead for East of England.
In a trip down memory lane and in his first visit to East Point Academy since taking up post in April, Jonathan Duff was welcomed to his old school by Principal Lucy Austin, Chief Executive of Inspiration Trust Gareth Stevens, Lord Agnew, Chair and founder of the Trust, and Heather Madsen, Chair of the school's Academy Committee.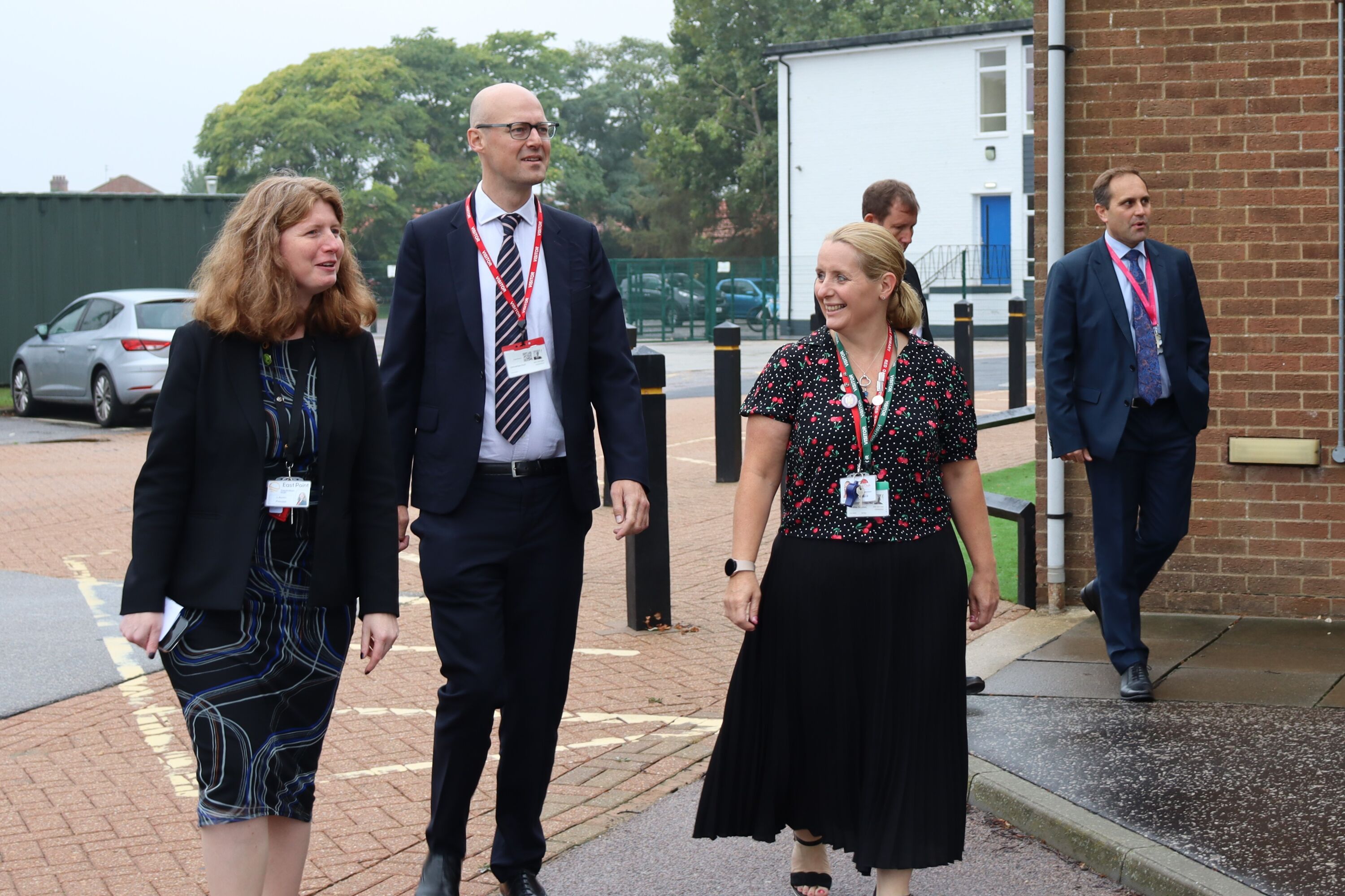 The Lowestoft school has undergone a considerable transformation over the last eight years, having joined Inspiration Trust in December 2014 which includes the opening of a new science and maths building, refurbished sports facilities, reconfigured library and careers area, plus refurbished classrooms and a landscaped open courtyard. These changes were funded by a £9m investment from the Priority School Build Programme and have aided in making East Point Academy a school that all the students and staff can be truly proud of.
Most recently, East Point Academy was confirmed as a "Good" school by Ofsted in February, when the school was inspected under the new, tougher, inspection regime. This was the first time in its history that the school had secured two consecutive 'Good' Ofsted inspections!
Results have also improved since the school joined Inspiration Trust. In 2018, East Point Academy was noted as the top performing school in Suffolk for progress and since 2015, grades have increased by some 17%, rising from 43% of pupils achieving A*-C English and maths in the old measure, compared to this summer's results of 60% achieving grades 9-4 English and maths.
During his visit, RSC Jonathan Duff commented on how the school had changed since he attended:
"I recognise the site and many of the buildings, it's great to be back in school, even in some of the classrooms I was taught in. I think what's nice to see is the way the school has been invested in. It's great to see children in class, learning and working hard."
He also recognised the impact that Inspiration Trust has had on the school and quality of education available to local families:
"The trust is trying to inspire the children to be more ambitious and think about what they might do after school. When being shown around East Point Academy I see pupils working hard and setting their sights high for the future."
Gareth Stevens, Chief Executive of Inspiration Trust said:
"We were delighted to welcome Mr Duff and Mr Crane to school this morning – East Point has been on quite a journey since joining us at the end of 2014 and we are all very proud of what the academy has achieved over the last few years, previously under Richard Dolding's leadership and more recently, Lucy Austin, despite the challenges of the pandemic."

"We all remember our school days, so it was a particularly special visit and the whole team thoroughly enjoyed welcoming our visitors and showing them just how East Point is going from strength to strength and providing an exceptional education to local children."