Behind the scenes of East Point Academy's upcoming performance of 'School of Rock'
Back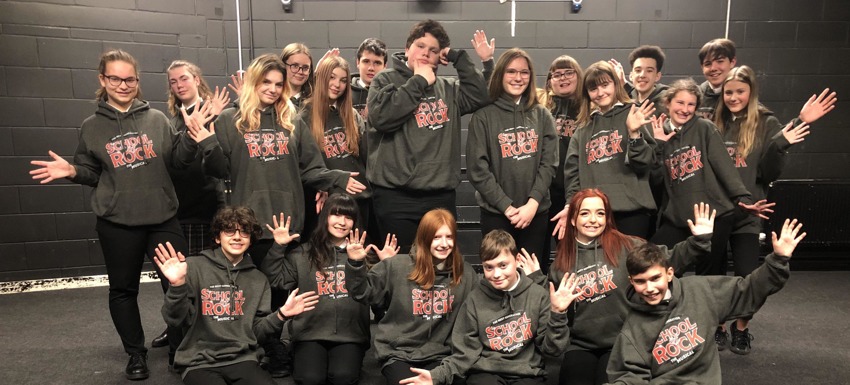 January 27th 2022
East Point Academy students are busy rehearsing for their upcoming performance of School of Rock. With exceptionally talented students involved and organisation from EPA's fantastic performing arts team, it is sure to be a show to remember. We're delving behind the scenes…
The show is being led by East Point Academy's extremely talented year 11 student, Ethan Cook, who is playing Dewey Finn. Ethan Cook said:

"School of Rock has had a great impact on me as it's allowed me to work with many great people from all year groups across the academy and it has helped improve my confidence and performance skills"

Another lead role is being played by year 9 student, Jenny James, who is playing the role of a strict headteacher Rosalie Mullins. Jenny said:

"Being a lead role in this musical has really helped me appreciate the hard work which goes into producing a show, developing my characterisation and embodying a role has also been challenging but rewarding. Its has been an amazing experience working with such a supportive cast and crew"

East Point Academy's Head of Performing Arts, Joanna Gilbert and teachers Victoria Mills and Lilla Read have been working tirelessly for six months to ensure that they are ready to put on a brilliant performance for the community. Joanna said:

"The cast and crew have worked exceptionally hard over the past six months which has been imperative to the performance world which has been badly affected during these challenging times. It is refreshing to be able to produce and perform live theatre, and to once again show the local community the talent, passion and love that East Point Academy students have for the arts."
We are looking forward to seeing the students and staff of East Point Academy's work come together in next week's live performances.
School of Rock will take place at East Point Academy on Monday 7th, Tuesday 8th, Wednesday 9th and Thursday 10th February 2022.
The doors open at 7:00pm, with the show starting at 7:30pm. Tickets can be purchased for £7 from the academy office on (01502) 525300. We hope to see you there!