"After I left East Point Academy, I knew I could always come back and ask for help"
Back
February 17th 2021
Megan has been offered a deferred place, starting in October 2022, at The Queen's College, Oxford, to study History.
Ever since I started thinking seriously about going on to higher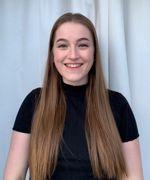 education, I had my heart set on a place at Oxbridge. For me, if you're going to take that step and go on to study at university, you should go to one where you're going to be pushed to be your best.
Of course, just wanting to be pushed was not really enough.
Both my parents supported my application, but neither of them had been to university themselves and so we certainly had a lot of questions about how it all worked.
That's why the support I received from East Point Academy was so important. Encouraging me to apply by not only boosting my confidence in my subjects, especially history which became my passion, but also through additional opportunities. Ms Avery arranged a meeting with another member of staff from the Inspiration Trust who had been involved in the Oxbridge application process himself - as well as successfully helping past students gain places. They helped me understand more about the application process, and in particular, reassured me about my A-level subject choices.
I wanted to study textiles as it's a subject I love, but I was concerned about having an A-level in the arts in case it would prove to be a hindrance for my application. I didn't want to be torn between subjects I enjoyed and the subjects I would need to choose in order to gain a place; so, it was crucial to have reassurance that I wouldn't be disadvantaged for choosing to study the courses which most interested me.
Even after I left East Point Academy, I knew I could always come back and ask for help. Whether it was making sure I was taking the right courses at college, offering me assistance with the 17 different drafts of my personal statement or preparing me for my interview via remote sessions with Mr Wallace and Miss Beales.
Of course, a huge part of the support I received from East Point Academy was in making sure I achieved top grades at GCSE, which would prove invaluable later on. I went to every single revision class that the school put on for us, with teachers who were always willing to put in the extra effort, even holding classes after school, at half-term, and on the weekends. Those opportunities really made the difference.
It is because of this level of support matched with hard work, that I received the GCSEs I did and, as a result, have been offered so many amazing opportunities, both in the future and since I have left East Point.
Those grades helped me get onto two separate Oxbridge outreach programmes: The Oxbridge Mentor Scheme and the UNIQ Oxford-led summer school.
The first scheme guided me through my application process from the very beginning in March 2020 until the decision date in January 2021. The programme offered direction from an assigned Oxbridge student mentor in writing a personal statement, developing my wider reading of my subject history, submitting written work, preparing me for my History Aptitude Test and mock interviews as well as the experience of a whole day course on being the perfect interviewee.
Meanwhile, the UNIQ programme, a summer school run by Oxford, was a week-long 'residential' (moved online due to COVID), which gave me a real sense of what life was like at the university and helped me meet like-minded students with similar interests.
Both programmes were extremely helpful in preparing me for the application process, and I wouldn't have qualified for either of them if it hadn't been for the support from East Point Academy in gaining the GCSE grades I received.
Of course, all the support in the world couldn't stop me being nervous when it came to the interview! However, it was such an amazing experience, discussing different ideas with leading academics on the subject I love.
In the end, it all worked out, and I was absolutely delighted when I found out I had gained a place. It took a few days to really sink in, having spent the time between the final stages of my application and the decision day, reflecting back, trying to determine how well I thought I had done. I just couldn't believe that an offer was on my screen!
I know Oxbridge won't be for everyone, but if you are interested and want to find out more, then I would definitely advise you speak to the team at East Point Academy. They all really do want to help as much as possible and I know they'll be delighted to assist your process in any way they can – I am still so grateful to everyone at the school for their support. I couldn't have done this without them.